The Art of a Well-Built Brand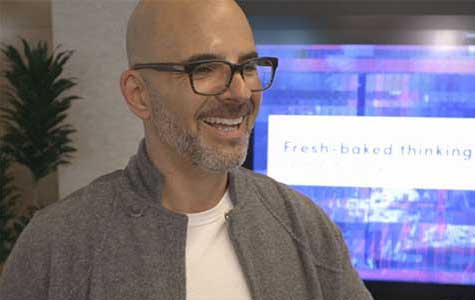 By Hugo Vargas for Aspen Business Connect
Chris Rubin Creative (CRC) is laser-focused on driving growth for small and medium-sized businesses through thoughtful, processed, oriented due diligence with brand strategy and message. They work with sharp, open-minded founders ready to evolve and work with the art of a well-built brand. Together you become a compelling force in driving growth for your business using a process that produces a Brand Identity uniquely authentic to your business. It is compelling and emotionally resonant messaging that aligns your brand essence with the needs and interests of a specific target audience. This messaging makes people want to know more about you, gauge your brand, and tell their friends about it.
Starting with discovery, they go in with an open mind and an objective point of view and, through the discovery process, rally together your key stakeholders. Bringing them together and essentially putting on a session called a Rumble, a vigorous discussion based on principles from a field called Design Thinking, which is well-supported and originated with their other company, Ideo. This field is taught at Harvard Business School. It is a well-established problem-solving system specialized for disparate opinions and points of view. It's a system that gets to the essence and root of the critical data points. It's about throwing ideas into the middle of the arena, testing them, trying them and tossing them about to come away with some consensus among that team of key stakeholders around some essential elements of the brand's essence.
So they obtain raw data and extract it from the minds of the people who understand the brand's key stakeholders. Then plot those things on a board, connect the disparate ideas and create something new. Then, when those data points are up on that metaphorical board, they look for the most compelling constellations between them and come back with a series of documents that crystallize, distill and codify some of those key insights. They then go through rounds of review and, eventually, reach a point where they have your brand identity.
They cut away the clutter to revisit ideas that may seem certain to those within the leadership team. But there is always great value in revisiting those things over and over, testing and trying them out and making sure that they apply to not only the current state of the brand and the business but that it leaves room for the aspirational quality of the brand, painting a path towards growth. Figuring where you want to grow and become in the future as a brand. So they create space within the brand identity and positioning for that growth that you aim to develop and drive through the conclusion process.
It's a simple equation they use at CRC, craft + process + experience; craft is about Chris's dedication to the ongoing development of his skill sets as a writer and creative director. Chris and his team believe in a Growth Mindset, which means they take the craft seriously by constantly developing reading and writing daily. The process; is about bringing efficiency to an inherently inefficient domain, creativity. In CRC, they have cobbled the best practices into an efficient and effective process, which has proven to deliver growth to their clients over time. And last is experience, which is witnessing and collaborating on multimillion-dollar projects and engagements but also leading those. The previous combined with CRC's expertise sets them apart, as well as their ability to create a unique brand identity and positioning for every pitch. So this combination of Craft + Process + Experience is why they do so well helping startups grow.
B to E is something that you often know with a SAS platform, but you need messaging and a brand that speaks to the end consumer, the end user of that platform. When you do it right, you're helping your B2B customer become more successful with your product and their customers. CRC is a powerful weapon for small to medium-sized businesses in the Roaring Fork Valley that might not have access to this service. The ideal clients for CRC are small to medium-sized businesses with a great product market fit and momentum. Product market fit is essential. They help small and medium-sized businesses compete at the same level as all of their household name competition. CRC has worked with global brands, but if you're a founder or work directly with a founder, they'd like to talk to you and see if there's a way to help you grow your business.
They provide two main aspects, foundation and growth. In technical terms, brand identity and brand positioning. Identity is essentially knowing yourself, who you are, why you exist, and what you aim to provide. Positioning is about knowing your audience, so they dive deep into that primary and secondary research. They create a composite sketch, so you know they have a name and a face. This way, CRC knows precisely who you're talking to and what's their needs, beliefs and desire. CRC looks at your competition. Who else is competing for that same audience? Who's trying to communicate with that same target group of people? For this, they do a competitive market analysis. The analysis breaks that down in evident detail through a messaging and branding lens. It's about you know how they're doing, what they're doing in a brand and marketing context. That's the foundation, and that's how you ensure your business can grow long. Growth is the other aspect; it's where they find that overlap between your brand's fundamental value proposition and the needs and desires of your target audience. That's the messaging that drives affinity, loyalty, conversions and sales growth.
Branding can take about two to three months, which will allow time for this due diligence. That'll take CRC through the discovery process, brand identity and positioning. Then into the messaging, the growth part and essentially, think of the end of that three-month cycle as you come away with the documents. You also want to get into your main narrative, where they tell your story and everything they need to know so that they're ready to engage further and learn more. At CRC, you can find strategists and planners, but ultimately, Chris likes dealing with his clients directly and doing the heavy lifting with the research and initial drafts. That personal level of attention and service is another thing that sets CRC apart and is so well suited to Roaring Fork Valley.
Visit chrisrubincreativ.com, where you can see story after story about how they've done this for big-name clients and startups. There are easy ways to reach out and book a meeting on the website. First, they created a quick questionnaire that takes about 30 seconds to complete on the site. Then, they will return to you and set up an initial call with the information provided.
Together with CRC, you can achieve the goals you have in mind and realize your vision together.